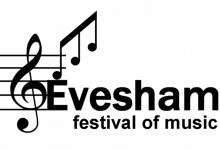 Festival 2019
Young Musician of the Year (Final)
Sponsored by the Festival of Music Committee and generously supported by the John Martin's Charity, this biannual competition aims to stimulate interest amongst local young musicians.
Winning contestants and best runners-up from the preliminary rounds will have the opportunity to demonstrate their skills in front of an audience and adjudicators at this showcase event to decide who will become Evesham's Young Musician of the Year 2019
Date: Wednesday 19th June, 7pm
Tickets: Under 16s £3, Standard £6
Venue: St Peter's Church, Bengeworth
We're sorry to inform this event is cancelled.
Schools Together Concert
Once again the overwhelming enthusiasm of our young musicians from the four local middle schools will shine through and entertain. Each school will delight by singing and playing their Show Stoppers and at the end of the concert the four schools will join together to perform.
Featuring young musicians from Bredon Hill Academy, Blackminster Middle School, The De Montfort School & St Egwin's Middle School.
Date: Thursday 20th June - 7pm
Tickets: Under 16s: £3.00, Standard Ticket: £6.00
Venue: Evesham Arts Centre
Music Through the Decades
Join us for a journey of Music through the Decades, featuring the musical talents of Betsy Harmony, George Smith & The Big Ginge Blues Band, Mums Aloud and Josh Harris. See more about our performers in our programme on page 8 and 9.
Date: Friday 21st June - 7:30pm
Tickets: Under 25s: £7.00, Standard: £10.00
Venue: Evesham Arts Centre
Music in the Church
Come along and enjoy live music in the wonderful Methodist Church, Evesham.
1:30pm: Musyck Anon
2:40pm: Evesham Concert Band
3:50pm: Vale Connection
Date: Saturday 22nd June
Tickets: Free!
Venue: Methodist Church, Evesham
MUSYCK ANON
Musyck Anon is a small choir based in Evesham who sing unaccompanied music. Their particular interest and enjoyment is in the madrigals and part songs of the 16th & 17th centuries, but more modern unaccompanied songs also form part of their very varied repertoire. They make regular public performances throughout the year, often in colourful 17th century costumes, for example at the annual Shakespeare Birthday Celebrations in Stratford upon Avon, and recently as part of the Evesham & District Music Club's 70th anniversary concert series. Please visit our website at musyckanon.com or visit our Facebook page at Musyck Anon.
Evesham Concert Band
The Evesham Concert Band has grown steadily from the small U3A 'Playing Music for Pleasure' group set up over 20 years ago, to the thriving band that it has become today. It is led by our dedicated Bandleader, Roger Wyatt, one of the original founding members, and currently has around 25 members. The band plays at concerts and outdoor events throughout the year, performing a wide variety of music including light rock and pop, music from the shows and light classical. We meet on Monday afternoons at Evesham Methodist Church and always welcome new members.
Vale Connection
Vale Connection is an award winning ladies' a cappella chorus based in Evesham and this year we celebrate our 25th anniversary. Our repertoire has expanded over the years, building on our barbershop origins, and we now sing an eclectic range of music, all sung in glorious four part harmony. We currently have 25 members and are led by our talented and enthusiastic musical director, Amanda Ballard. See our website for more information: www.valeconnection.weebly.com and our facebook page: Vale Connection(Ladies Chorus).
Music at the Valley
The Valley is proud to present a day of music, celebrating local talent as we support Evesham's free Festival of Music Fringe event. Come and enjoy the talents of Evesham's own vintage singer Betsy Harmony as she escorts us on a singing journey with music from the 1940s through to the 1960s.
Introducing George Smith, who brings blues music to the masses around Evesham and Stratford and is sure to get your feet tapping. We will also be welcoming a special appearance from the fantastic Josh Harris who is one of Evesham's young up and coming talents. A 'W' Factor winner, he has already cut his first EP with lots more in the pipeline.
Between the singing there will be demonstrations with taster sessions of Lindy hop and Swing dancing. Come and join us and learn a new skill for the dancefloor. Dancing is provided by the wonderfully talented 'All About Swing' Dancers who perform and teach in Evesham and Birmingham all year around.
10:00am Opening with the vintage singer Betsy Harmony, followed by All About swing Dancers and music from the 40s and 50s
11:00am George Smith bringing traditional and rhythm and blues beat.
11:30am Josh Harris and music from his EP
12:00pm music and dance with the All About swing Dancers Demonstration
12:30pm Betsy Harmony Vintage music
13:00pm George Smith Bringing the blues
13:30pm All about swing dancers have a go class
14:00pm Josh Harris making covers his own
14:30pm Betsy Harmony finale with dancers
15:00pm Music to close
Date: Saturday 22nd June
Tickets: Free!
Venue: The Valley / Evesham Garden Centre, Evesham
Last Night of the Proms
(Stratford-upon-Avon Orchestra)
The Stratford-Upon-Avon Symphony Orchestra raise the roof in the final concert of the 2019 festival. The programme will include popular works by Arnold, Holst, Vaughan-Williams and Elgar. After the interval enjoy all the fun of the Last Night of the Proms, with everyone joining in with Hubert Parry's "Jerusalem".
The Orchestra was founded over fifty years ago as the Stratford-upon-Avon Concert Orchestra, with only five members at the start. From 1969 to 2016 the orchestra was conducted by Andrew Swinn, a Languages teacher at Prince Henry's High School, an excellent pianist and also a flautist. It was as a result of his extreme dedication, imagination and hard work that the orchestra developed to become the Stratford-upon-Avon Symphony Orchestra that Dan Watson took on in 2016. Since Dan took over we have tackled some increasingly challenging repertoire and grown to a membership of 70 players as well as holding our first open Playday It is a Community Orchestra, with charitable status, consisting entirely of amateurs who love making music together on Friday nights.
Date: Saturday 22nd June - 7:30pm
Tickets: Under 25s: £8.00, Standard £12.00
Venue: Evesham Arts Centre