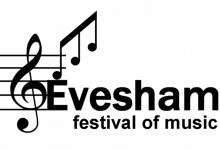 About Us
The Evesham Festival of Music was launched in 2007 offering local musicians a platform on which to perform and the opportunity for the public to experience the wide array of musical talent that Evesham has to offer.
Since 2007 the Festival has run as a biennial event with each Festival building on the success of the last, the introduction of the Young Musician of the Year competition in 2009 proving so popular that it has now become a permanent feature of the Festival.
The 2011 Festival was expanded to run over an eight day period with twenty events and over seven hundred performers providing a varied programme from Big Band, Jazz and Folk to Classical and Opera including Schools Together, Worcestershire Youth Wind Orchestra, Massed Bands in the Park, Gilbert & Sullivan and the ever popular Gala "Last Night of the Proms".
The Fringe Programme was also extended to cover three days showcasing some fantastic local talent at various venues in and around Evesham.
We plan to expand the 2013 Festival (22nd - 29th June) offering a much wider musical scope including a free Rock/Pop Concert in the Evesham Market Place and a combination of professional and amateur talent to include The National Youth Folklore Troupe and the internationally acclaimed Cwmbach Male Voice Choir, the 2013 Festival really should have something to appeal to all tastes in music.